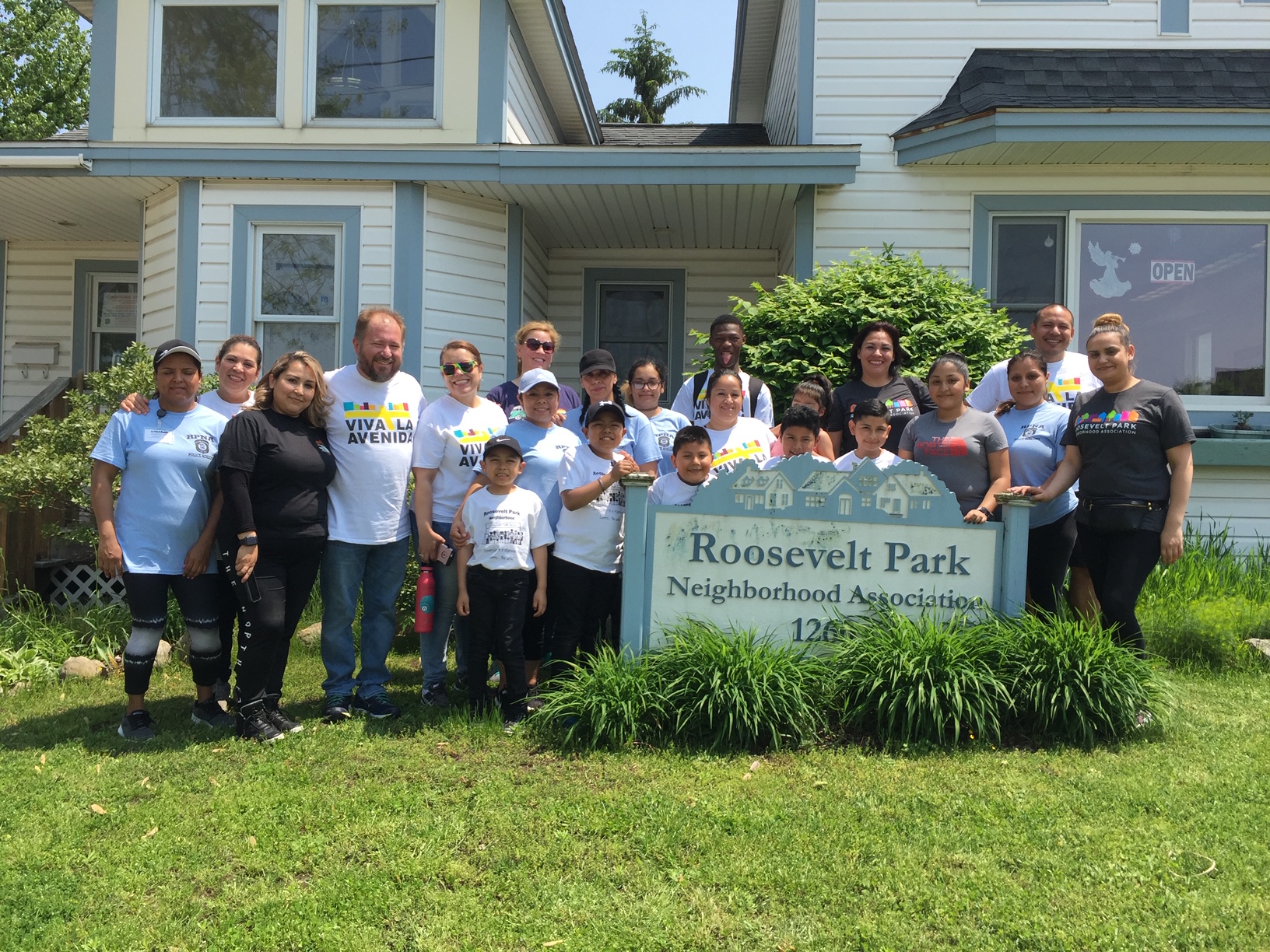 Inspiring a Neighborhood
Established in 1978, the Roosevelt Park Neighborhood Association has worked to make our neighborhood a safe, attractive place for our residents. Our funding comes from multiple sources, including CDBG funds which are administered through the City of Grand Rapids; ongoing gifts from foundations; and from our area's businesses and residents. Our staff includes 1 Director and 2 Crime Prevention Organizers who are bilingual in English and Spanish. RPNA's board of directors includes 10 members —mostly people who live in the neighborhood. In the early 1990's, the RPNA recognized that Grandville Avenue is the key to the success of the rest of the neighborhood, and we have focused many of our resources on this critical corridor.
Some of RPNA's accomplishments include:
Playgrounds
Built a new playground/basketball courts at Hall School in 1994
Library
Built the first Grandville Avenue Neighborhood Library in 1996
The Arts
Built the Grandville Avenue Academy for the Arts (now called the Cook Arts Center) in 2001
Fire House
Renovated the old Fire House (Engine House No. 12), in collaboration with the Hispanic
Center in 2006
Humanities
Built the new Cook Library Center in 2008, in collaboration with Grandville Avenue Arts and
Humanities
Area Specific
Created an Area Specific Plan, "Viva la Avenida", which was approved by the City of GR in
2017
The neighborhood boundaries
are Wealthy to the north, Burton
to the south, Clyde Park / Godfrey to the
West and Century Avenue to the east.
RPNA Board of Directors:
Pastor Reggie Smith, President
Heather Rosema de Olivares, Vice President
Dr. Bruce Roller, Treasurer
Carol Watkins, Secretary
Jacqueline Bouma

Amancio Blanco
Javier Cervantes
Johnnie Jordan

Israel Ledesma
Margarita Ortiz


RPNA Staff:
Amy Brower, Executive Director
Rocio Rodriguez, Crime Prevention/Community Organizer
Asucena Cervantes, Crime Prevention/Community Organizer